2012.07.06 Friday
Star Festival
The Star Festival (Tanabata) is on July 7th, so we celebrated the event a day earlier making sure to get our wishes in on time.
Here is an abbreviated version of the story:
The story goes that the Weaving Princess (Orihime) and the Cow Herd (Hikoboshi) met and fell in love. Once they were married, Orihime stopped weaving and Hikoboshi let his cows roam all over the place.
The Sky King, Tentei, got angry and separated the couple. Orihime lived on one side of the Milky Way and Hikoboshi lived on the other side.
Orihime was deeply saddened by the separation and Tentei, seeing her grief, agreed to let the couple meet once a year on the 7th day of the 7th month.
However, if it rains on that day the couple cannot meet and must wait another year.
Now every year on July 7th we wish for a clear day and we write wishes to hang on the bamboo branches to celebrate this wonderful festival.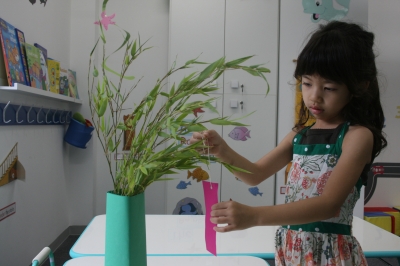 I wish for 100 donuts???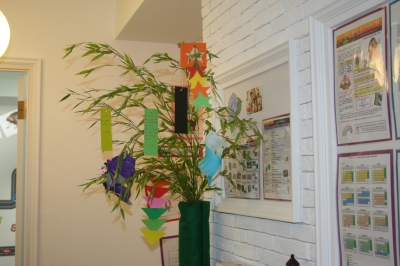 Happy Tanabata to everyone.