2013.06.05 Wednesday
Our Pets! ~ Blacky & Rainbow became beautiful butterflies! ~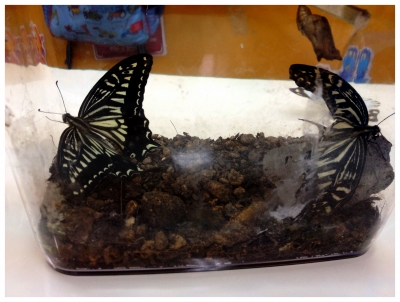 On Monday morning we were surprised to find that our caterpillars had emerged from their cocoons, having finished their metamorphosis into beautiful butterflies!
One of the butterflies was still preparing to open its wings and fly for the first time… an exciting sight for the students! We thought about where the butterflies might be happy living out their lives, and decided that the Ebisu Garden Park, with its large flower garden, would be the perfect place for them. After morning circle, we took the butterflies there and said our goodbyes.
It was fulfilling yet bittersweet for students and teachers alike to watch the butterflies fly away.
Good luck little butterflies!